Venture Republic launches new curated travel media called "THE LIST", offering a shortlist of the best hotels in top global destinations, including New York, London, Paris, Kyoto and Tokyo.
Tokyo, Japan— Venture Republic Inc. (headquarters: Minato-ku, Tokyo; CEO, Kei Shibata; hereafter "Venture Republic") is pleased to announced the launch of "THE LIST" (http://thelist101.com/), a curated travel media that presents a shortlist of the best or recommended hotels in global cities, targeting discerning and savvy travellers from all over the world.
THE LIST is a collaboration project between Venture Republic CEO, Kei Shibata, a leading influencer in APAC online travel industry, and Trey Shores, who heads up Asia-Pacific development for a popular US-based lifestyle boutique hotel brand. THE LIST will launch with 10 destinations, including popular cities such as New York, London and Paris, as well as key Asian cities such as Singapore, Seoul and Tokyo.
In preparing for the launch of THE LIST, Mr. Shibata and Mr. Shores conducted intense on-the-ground research in each of the destinations, visiting or staying at dozens of hotels in each city over the course of almost a year. Their shortlist was then verified through interviews with fellow travel industry colleagues, hotel professionals and global style makers and trendsetters. Hotels were selected across a range of categories (from budget to luxury), with a strong emphasis on design, service, industry reputations, location and of course value.
THE LIST presents large, high-definition images and magazine-style layouts, with a common editorial voice in all of the reviews. The idea is to give a professional/insider's view on each hotel market and present the hotels in as truthful a manner as possible, giving both the good and bad of selected properties. This will be a first for the Japan market, where the majority of travellers get their information on recommended hotels through magazines or travel/ lifestyle blogs.
THE LIST will add a Features page in the coming months that functions as an all-around travel media, with hotel reviews, tips on bars and restaurants and other shareable media related to hotels and travel. THE LIST will be powered by Venture Republic's long experience in the meta search business, allowing users of THE LIST to make hotel bookings directly from the site. A range of booking options will be made available to suit all user's preferences.
The creators of THE LIST are excited to introduce the world's best hotels in one site, and hopefully take some of the guesswork out of selecting hotels.
【Quote from Venture Republic Inc. CEO, Kei Shibata】
THE LIST is a dream project for me. With my constant overseas travel, my friends, family and colleagues just assume that I am some kind of hotel expert and always ask for tips on the best hotels. It wasn't until after getting involved with this project that I could confidently give such recommendations. And now I sincerely look forward to sharing this list the world, and hope THE LIST can answer this question for millions of travelers.
【Quote from Trey Shores】
Imagine if a best friend or trusted colleague made a shortlist of the best hotels in a city you were traveling to. Now imagine that best friend was a hotel development professional or a travel industry CEO. That really sums of THE LIST. We wanted to take the guesswork out of hotel selection, to present a distilled selection of choices.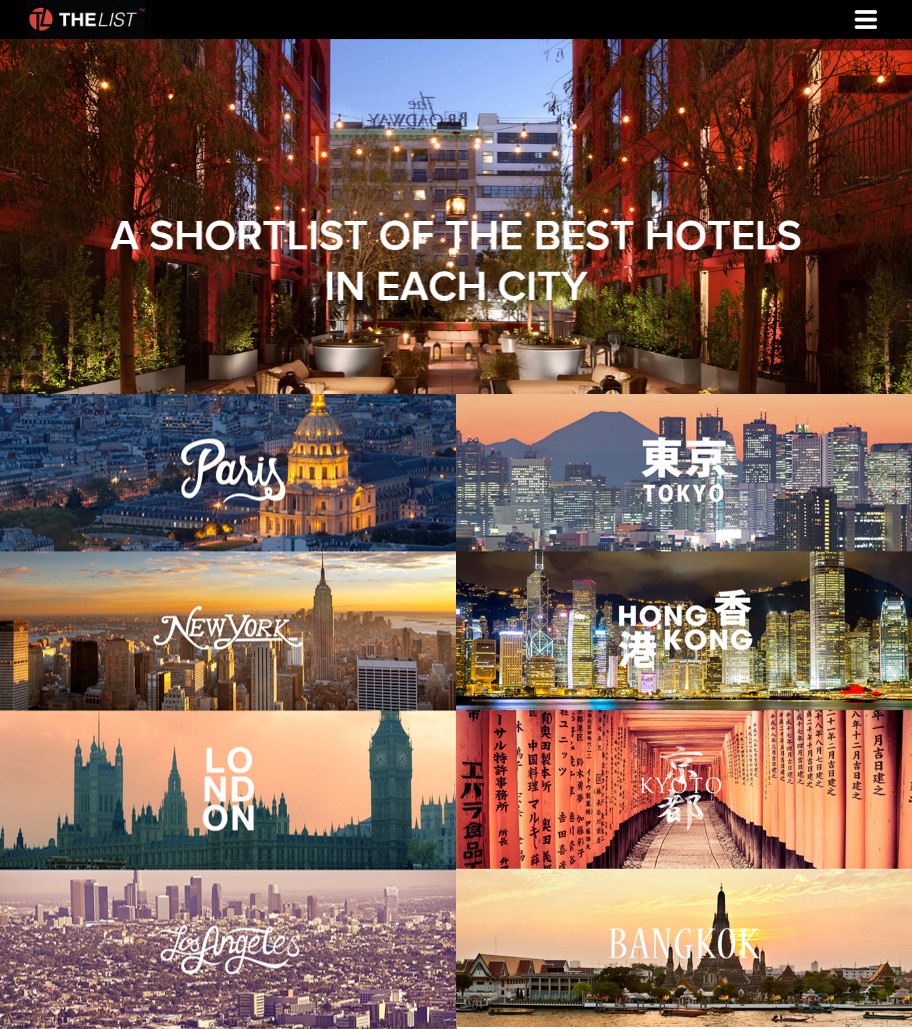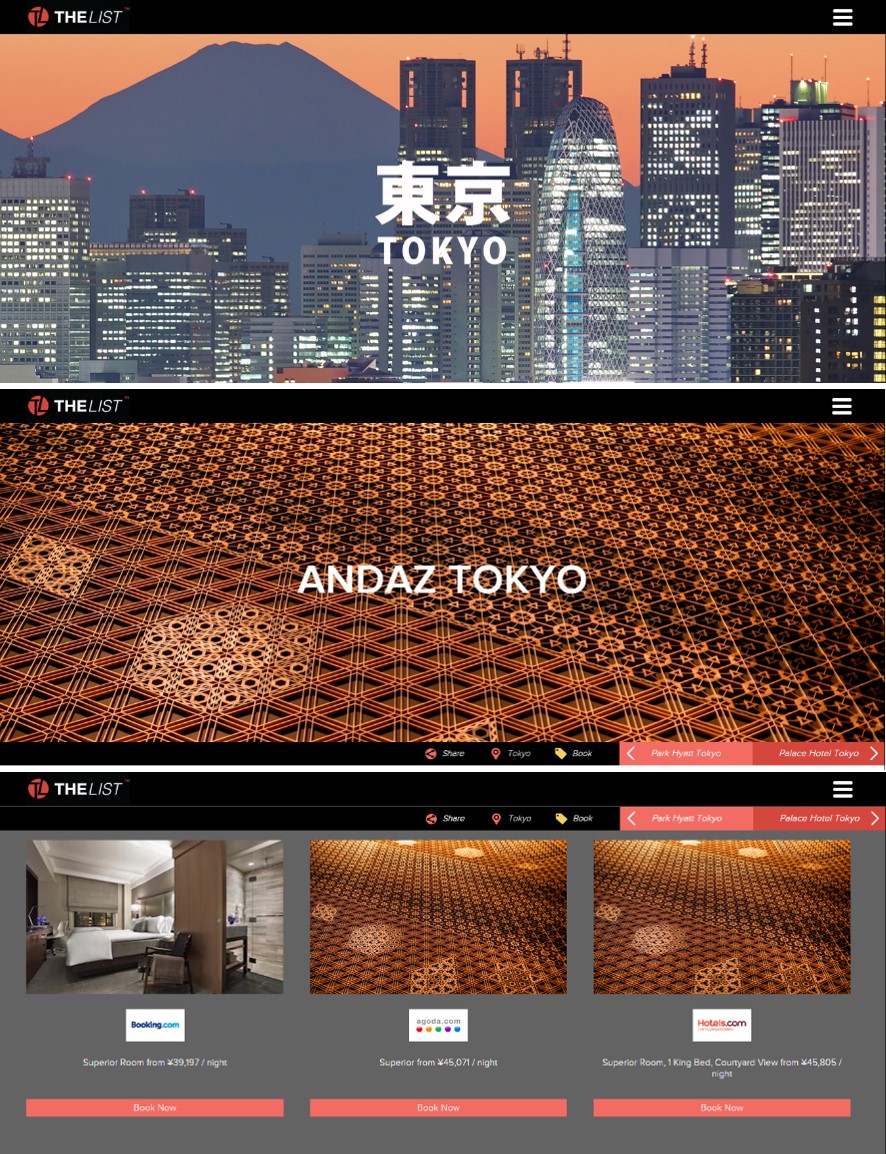 ■About Venture Republic
Venture Republic operates vertical search engines and product review services, primarily in the area of travel. We help consumers to find, research and acquire the best deals online.
"Travel.jp" (http://www.travel.co.jp/) is Japan's leading travel metasearch engine. It lets users search and compare tour packages and airfares from more than 200 online and offline travel agents across Japan.
"Hotel.jp" (http://hotel.jp/) is a unique site featuring user-posted pictures, videos, and reviews of hotels; it allows users to metasearch accommodations at over 29,000 hotels in Japan and also about 660,000 hotels in overseas.
"Travel.jp Tabiness" (http://guide.travel.co.jp/) is a curated travel contents service around the world with more than 345 assigned "travel experts" uploading content over 6,500 has been posted. Information on sightseeing spots and food is updated daily to help navigate travel around the world. It also launched an English version. (http://trip101.com/)
– Websites
Venture Republic Inc. https://www.vrg.jp/
"Travel.jp" http://www.travel.co.jp/
"Hotel.jp" http://hotel.jp/
"Travel.jp Tabiness" http://guide.travel.co.jp/ / http://trip101.com/ (for English)
– Press Contact
Email: press@vrg.jp